The Heritage Dining Room offers a variety of seating arrangements and views. From lakeview to fireside, our ambience adjusts to each season. The ease of planning and providing food service allows additional time for the coordinator to concentrate on the objectives of the meeting. The variety and selection provided to delegates will meet individual preferences with quick and efficient service.
DINNER
The dinner hour provides a time to relax and revisit the day's accomplishments, while enjoying traditional or contemporary selections from the extensive menu. Our servers will assist with selecting wines to complement your meal, or arrangements prior to the event are welcome.
BREAKFAST
Start your day with a full-service breakfast. In addition to traditional items, daily specials add a spark to the day. For larger groups, or when there is a time constraint, breakfast can be presented as a hot and cold buffet, with an omelette station to accommodate individual preferences.
LUNCH
Keep the discussion in play during the midday break. Our table-service lunch menu offers selections from light to indulgent, all served efficiently within the time allotted. Large group, tight agenda—our luncheon buffet can insure your delegates are well fed, with time to spare.
AWARDS DINNER
Acknowledge achievements, celebrate your peers … share your milestones! The Heritage Dining Room is famous for its fabulous atmosphere for celebratory dining. From the details of a tailored menu to the support of audio/visual aids, the particular requirements of your event will be met with the guidance and experience of our conference director.
THEME DINNER
To follow through with your existing theme or to create the event, theme dinners are always an enjoyable challenge. Through decor, menu planning and entertainment, the result is sure to be memorable. A red carpet welcome to the Oscars, a mystery on the high seas or the masquerade of Mardi Gras—we will provide an evening to remember!
FESTIVE SEASON COLLABORATION
Let the traditional celebration at Fern become your traditional celebration. For groups of 10 or 100, this company celebration will be the one your employees will remember. The evening provides pre-dinner hors d'oeuvres and entertainment, festive-season five-course menu and a DJ dance. You may be part of the larger event, but individual attention will enhance your celebration. Looking for something more casual and private? We have the room for just that experience. Give us a call and we will tell you more!
Mid-morning and mid-afternoon, nourish your team with items for both the health-conscious and the sweet tooth. How about a three-minute stretch and a cooling smoothie? Creative themes and special requests are always welcome. Always available—coffee, tea, soft drinks, bottled juice, iced water.
Breaks Menu
Whole or sliced fruit
Fruit smoothies
Granola and yogourt
Fern rolls and honey
Tim Hortons Coffee Break
Freshly baked tea biscuits, cinnamon buns
Breakfast loaves and breads; vegetables and dip
Hummus and pita chips
Freshly baked cookies
Energy & granola bars
Chocolate brownies
Hot fruit crisp with ice cream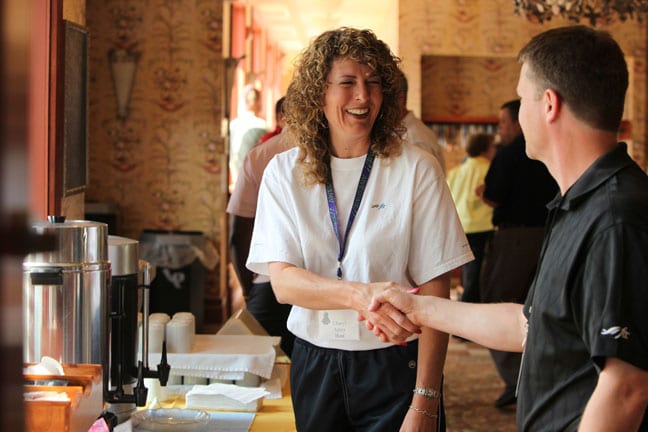 Fabulous dinners await, with menus perfect for occasions from a casual retreat dinner to a company awards celebration. Country breakfasts and delicious lunches round out the experience. Daily menus are just part of what makes meeting planning easy!