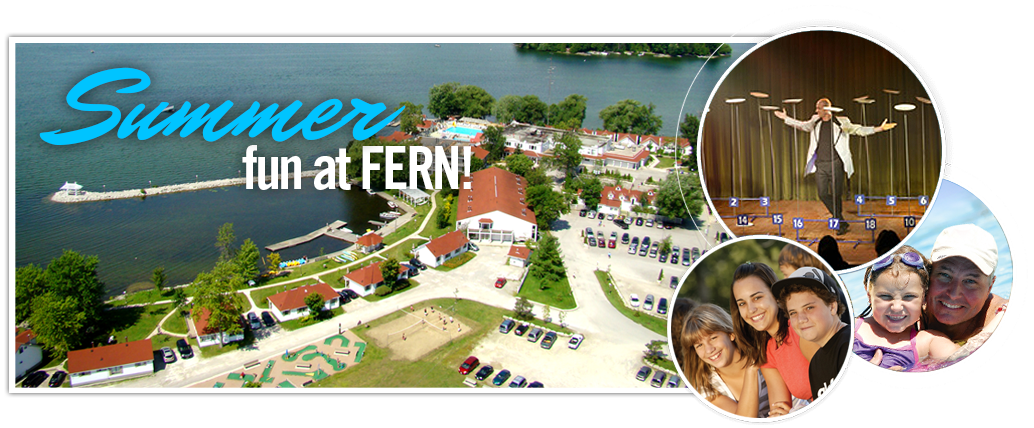 Summer Warm Up Special
2 NIGHTS to 7 NIGHTS
Available Jun 21, 2019 - Jul 7, 2019
Specials / Specials / Specials
***Summer Sizzler Sale***
We're holding our rates for next summer. This is your chance to lock in at 2018 rates for your 2019 Summer Vacation. These are the lowest rates of the year! Book with a deposit by December 15th, 2018 before prices go up. Book early discounts will apply.
Your vacation package will include:
Dinner on Arrival, 3 Meals Daily, Breakfast on Departure (2 & 3-Day Stays include Lunch on Departure)
Kids Club & Activity Programs
Professional Evening & Afternoon Entertainment
All Facilities including Golf, Tennis & Pickleball
Silent Watercraft
Bikes & Pedal Carts
All Extreme Sports including Climbing Wall, Paintball, Archery
Resort-wide Wi-Fi
...and so much more
Discover The Fern Resort Difference
Experience a family vacation like no other located in the heart of Ontario's Lake Country. Sit back, relax and reconnect with your family and friends and find out why we're Ontario's All-Inclusive Resort. As guests, you'll have access to all of the resort`s facilities, planned activities, world-class entertainment and fabulous dining. From kayaking and SUP to swimming and yoga, you'll find your days full of fun things to do. All equipment is provided at no extra cost. If your interest is an escape, you can find a hammock for quiet and relaxation. There are scheduled activities for both adults and kids, so your children can have supervised fun and make new friends with their own age group. Our youngest guests, aged 0-6years, can enjoy the fully supervised sign-in and sign-out PlayVillage where programmed activities, crafts, toys and our friendly staff will keep your child engaged and having fun.
Discount Details
Embrace last years rates AND leverage Fern's book early discounts. Rates on-line are last years rates and will remain live until December 15th at witch time will go up to 2019 package rates. Booking needs to be confirmed on or before December 15th and you will receive last years rates and 5% "Book Early" discount. You have the opportunity to receive an additional 5% discount when package is payed in full before February 15th. Book early discounts will be applied at time of processing and are not represented in the on-line price module. Summer Sizzler Sale apply to Summer Special Packages only and are not available on regular season (flex) rates.
TAKE A LOOK AT OUR CURRENT SUMMER SCHEDULES
CHECK OUT OUR CURRENT PACKAGES