BRINGING EVERYONE  Closer Together
Fern Resort is Ontario's all-inclusive resort and we've been welcoming families and friends for 125 years. Owned by the Downings, the resort is in its 4th generation of family operation and faithfully committed to ensuring that guests have an unrivaled vacation both for our level of service and the amazing experiences we offer. Nestled on the picturesque shores of Lake Couchiching, just a short drive north of Toronto, Fern is the place to kick back, relax and reconnect with your loved ones. Discover why we're Ontario's All-Inclusive Resort.
YES - IT'S INCLUDED!
YOUR FUN YOUR WAY
At Fern Resort, the best of Ontario's cottage country is included. Discover new challenges, explore nature, join one of our many activities or just hang around in a hammock and soak up the beautiful scenery. Discover our amazing facilities, take time for yourself and reconnect.
Large pool deck and terrace bar
Beach volleyball, basketball, floor hockey
Golf on-site, tennis, pickleball
Mini putt, horseshoes, bocce ball
Indoor pool, fitness centre, sauna
Activities Available late June to Labour Day Monday:
Paintball
High ropes, rock climbing, low ropes
Batting cage, archery, axe throwing
Afternoon & Evening entertainment
Yoga, arts and crafts
Five complete programs of activities
Children's Playvillage program
IT'S INCLUDED
FUN FOR ALL AGES
Family focused fun for everyone. From the Play Village to kids' Extreme Sports, we give children extra attention with special activities geared just for them. We have supervised programs for 5 different age levels, so your kids are never bored or short of fun things to do. They'll have a blast and make lots of new friends. Of course, we have lots of fun adult activities too from the challenging Vertical Playground to outdoor yoga and SUP. Kick back and relax by the pool or get active – it's all included.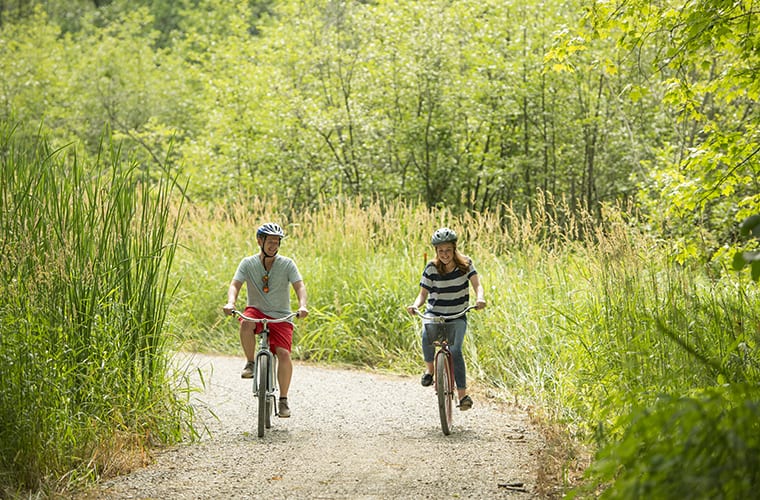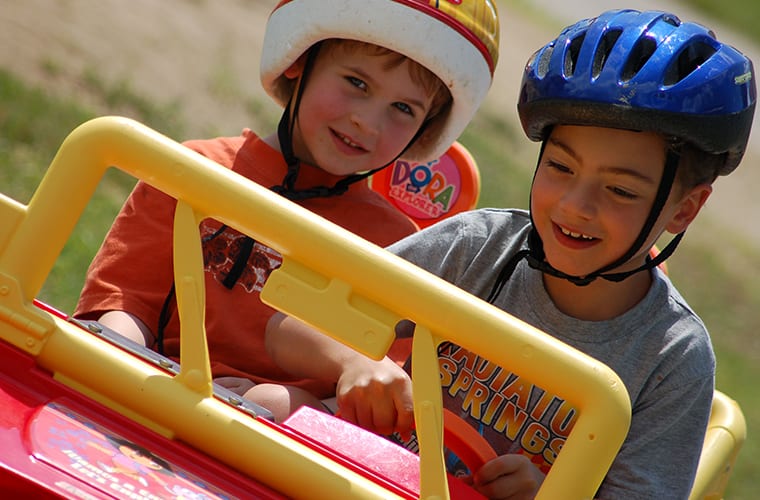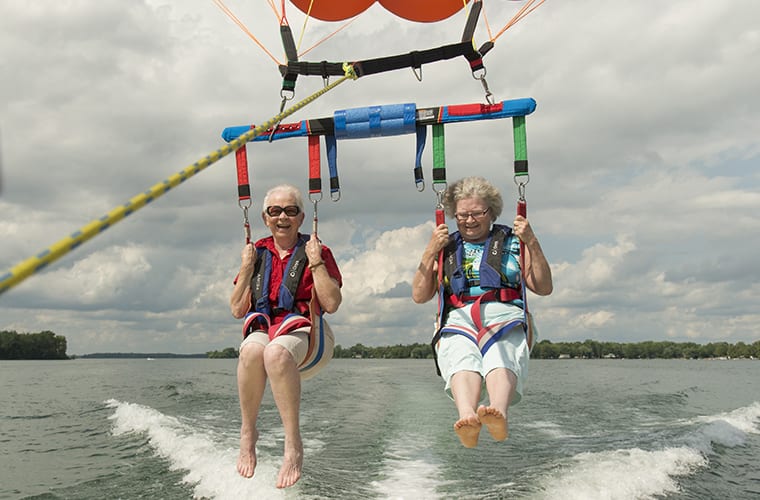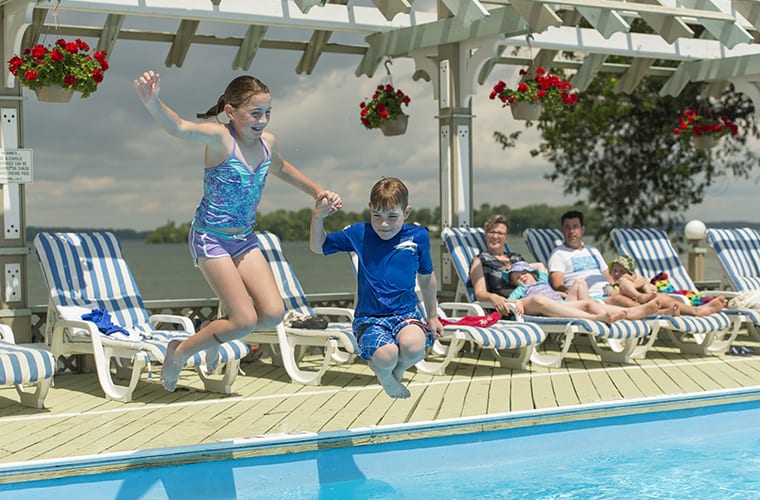 Best Family Holiday
Absolutely one of the best family holidays we have taken. The children were entertained for hours on end, made lots of new friends, and there was plenty for adults to do too (axe throwing, anyone?!).
The food offered was a good range to cater for all tastes, with the breakfasts and lunchtime poolside BBQ the highlights. My only criticism here is that the kids' menu was the same every day, but I realized that if you wanted to ask for something else (e.g. Pasta and cheese), you should just ask and they will accommodate you.
The facilities offer a wide range of activities which you can either do at organized times, or to fit in with your own timings. We did the fishing trip as a paid extra activity and my son loved it.
Enjoyable Getaway, Beautiful Grounds
My husband and I's first time at Fern Resort. We had a room on a lower floor overlooking the lake. Our room had a fireplace and was a nice size. The balcony/terrace was a nice place to sit and watch the beautiful sunsets. We had 3 meals, all from a menu which allowed for a good choice of meals. Breakfast was excellent with many choices. We visited in the fall after Thanksgiving so the outdoor pool was not available but the trails for walking were lovely and peaceful and not difficult to follow. The Staff were very pleasant and helpful. We enjoyed our stay and will likely return in the summer.
Staff Made Everything Great
We recently held a corporate dinner at Fern Resort with incredible success. The staff have instituted thoughtful COVID protocols and we felt very safe.
The food, the location and the view were wonderful – but it was really the staff that made everything go so well. Huge thanks to Jennifer Demuth
Fun Halloween Weekend
We love you guys and this place. I love that the staff remember my kids' names year after year. We have great memories here and plan to continue this tradition.
Exceptional Food
I can not say enough about the quality of the food available at Fern! We had 315 people at our last conference which was definitely maxing out the available space available at Fern but the exceptional quality and service was not affected at all. I am always amazed at how smooth things run at Fern.
Great Venue
Everything went very well. The facilities were great. We were very pleased with the food and the service. Staff were very friendly, fun and helpful. We loved the box lunches, especially the butter tarts! It's a lovely venue. We were very impressed with Fern.
Great Service
Food, accommodation, entertainment, customer service, cleaning staff, all exceptional…Jennifer, Sarah & Stefanie, we thank you for your thoughtfulness, great ideas and outstanding organizational abilities. We all have so many new memories etched in our minds and we will be talking about this event for many years to come. Congratulations to your amazing team and thank you from ours.
FIND OUR WHY WE'RE ONTARIO'S ALL-INCLUSIVE
OUR CURRENT PACKAGES
FIND OUT HOW RELAXING AN ALL-INCLUSIVE VACATION CAN BE
Even better, you save up to 30% off the price of a regular mid-week stay by booking on a weekend.
The same great features and activities as a full summer vacation package, but for a shorter stay. Our weekend getaways are two or three-night all-inclusive packages perfect for families or couples looking for a mini-vacation away from it all. Just a short drive north of Toronto. Click here to browse weekend packages. 
OUR SUMMER GETAWAY PACKAGES