Discover our
Winter Playground!
You can experience winter in Ontario your way, either immersed in the excitement of winter sports or stowed away in a cottage nestled along the lake. There's a wide variety of activities, indoor and out, for every interest and full meal-plan packages. We have taken care of everything. Fern Resort is perfect for groups of friends and families to get away together.
There's so much happening at Fern this winter!
WHAT OUR GUESTS ARE SAYING
"If you're looking for a resort that focuses on the family, then Fern is it." Guest – Winter, 2018

IT'S INCLUDED
YOUR FUN
YOUR WAY
At Fern Resort, the best of Ontario's cottage country is included. Discover new challenges, explore nature, join one of our many activities or relax and enjoy the beautiful scenery. Discover our amazing facilities, take time for yourself and reconnect.
1.5km skating trail
Snowshoeing
Curling on the lake
Ice fishing
Cross country skiing
Broom ball
Open Air Crokicurl
Outdoor Hockey
Indoor pool, fitness centre
and more…
Available for select packages only (please enquire):
Yoga
Classes and workshops
Full program of activities plus Children's Playvillage
Weekend entertainment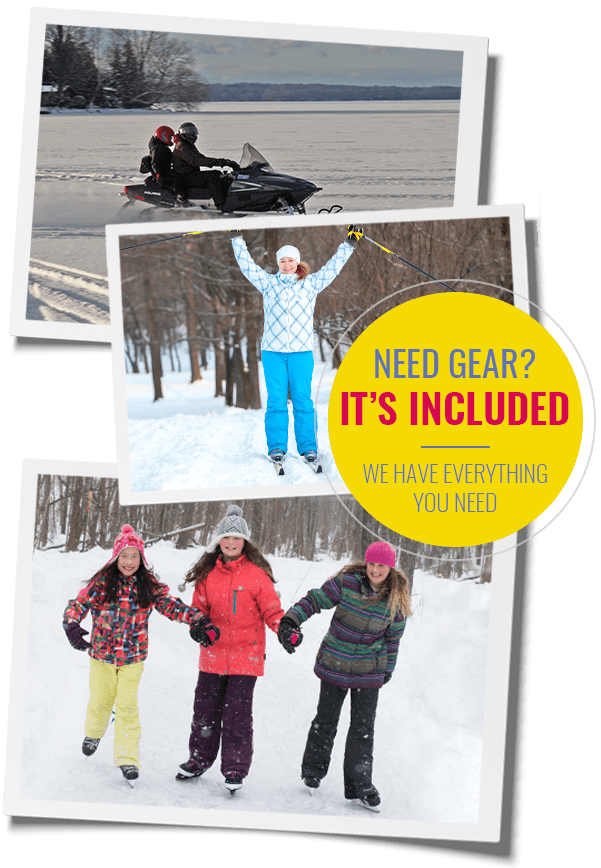 LOOKING FOR A QUICK GETAWAY?
Save on our Winter Weekend Getaway packages and discover the perfect last minute vacation. One to three day all-inclusive packages available for families or couples looking for a mini vacation away from it all. Up to two children stay for free and seniors save 10%. Just a short drive north of Toronto.

Experience a real Canadian adventure
Lace up your skates and explore the 1.5km natural ice surface that winds its way through the woods. For a truly magical experience, be sure to go for a skate in the evening when the trail is lit by dozens of torches. Our skating trail is available for non-guests on selected days.
FIND OUR WHY WE'RE ONTARIO'S ALL-INCLUSIVE
OUR CURRENT PACKAGES